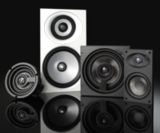 We've never believed in subtle improvements. We've never stopped breaking the barriers.
Inventing the inwall speaker was where Sonance started.
But to maintain our leadership, we've constantly asked ourselves, "What's the next wall to smash?" In the process, we haven't just led the industry we've redefined it, one new invention at a time, for nearly 25 years.
Sonance®. A history of innovation that architects, customer installer, design sensitive audiophiles and consumers such as you all recognize as truly a breakthrough.