LCD flat panel TVs: Want a TV that could last 30 years or more?
By The Vann's Editorial Team
Last revised October 12th, 2009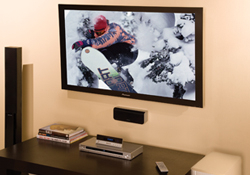 For most video-minded folks, the ultimate dream is to recreate the theater experience in their own home, without the drawbacks of going to the theater. Noisy popcorn chompers, giant-hat-wearing persons and tantruming toddlers come to mind. Video technology has been heading in this direction of a more theater-like experience in the home for some time, and now new technologies such as LCD (Liquid Crystal Display) have made that dream a reality.
LCD televisions resemble plasma panels, and, in truth, they do have a few things in common. For instance, both have slim, narrow profiles, can be easily mounted on your wall and can display extremely high resolutions. However, upon looking a little closer, one sees that the similarities end there.
Just as the name implies, LCD screens use liquid crystal as the foundation of their image reproducing technology. An LCD's screen consists of an array of hundreds-of-thousands to millions of square pixels arranged into a grid. When different levels of electricity are applied to a layer of liquid crystal sandwiched between each pixel's two light filters, the molecules that make up the liquid crystal arrange themselves in a particular way so that only a certain amount of the light being produced behind them is allowed to pass through and be seen by the viewer. While the liquid crystal is involved only in regulating the amount of light, a color filter placed between the light filter nearest the viewer and the viewer is responsible for determining the color of the light that passes through the screen. To create blacks, enough energy is applied to the liquid crystal so that its molecules arrange themselves to block most of the light.
LCD technology has an extremely high longevity — the average panel has a potential viewing life of 60,000 hours. Also, LCD displays are often best suited to use in areas with higher levels of ambient light because their screens are less reflective than those of other flat panel formats.
Another benefit of LCD televisions is their sleek design. LCDs are narrow and light enough to be easily mounted on a wall without taking up much more room than, say, a framed painting. Generally, additional wall mounts are not included with these televisions, but most are shipped with lightweight, low-profile base stands for entertainment center placement. Three principle categories of mounting solutions are available: stationary, tilting/adjustable, and articulating arm. A stationary mount works as it sounds: once you mount the television, it stays firmly in place against the mounting wall. A tilt-mount allows you to adjust the viewing angle 10-20 degrees vertically; this is an excellent option if you intend to mount the television higher than eye-level. Articulating arm mounts allow you to extend/alter the distance the television sits from the wall, and often allow for vertical and horizontal tilting. Whatever your viewing preference, mounts are available to meet your viewing needs and enhance your viewing experience.
Currently, most LCD flat panels support the highest high-definition content, including 720p and 1080p. Here, the numbers "720" and "1080" refer to the resolution, or number of pixels — expressed as the number of pixels in a horizontal row — that a panel can deliver. The higher the resolution (and the higher the number), the higher the level of detail that can be displayed. The letter "p" refers to the scanning method — or way in which new frames are displayed on the screen giving the illusion of motion — that a particular flat panel uses. While a "p" refers to progressive scanning — in which each row of pixels is displayed in sequence — an "i" refers to interlaced scanning — in which the odd lines are displayed before the even lines. Because progressive scanning is a more advanced technology, any flat panel set able to display progressively will also be able to display interlaced source material.
LCD doubles as a computer-viewing technology, so LCD televisions can easily double as computer monitors. If turning your television into a computer-viewing unit is appealing to you, make sure that VGA and DVI inputs are present before you make your purchase. Most sets come with these inputs installed, allowing easy connection to both Mac and PC platforms. With the addition of a HD receiver, you can easily switch from computer to television and back again on the same LCD television.
Sound is another key element of the television experience. Why go to the trouble of creating a superb picture while leaving the sound the same as that as you would get from a boom box? That's why HDTV uses Dolby Digital 5.1 audio encoding, the same system used on DVD movies and in most motion picture theaters as well as home theater systems. HDTV audio can include true surround sound with up to 5.1 discrete channels (front left and right, center, surround left and right, plus a low frequency subwoofer) of sound at CD quality with a frequency range both higher and lower than the human ear can hear!
LCD is cutting edge technology that just keeps getting better. If you are looking for a true home-theater experience, you will be hard pressed finding a better solution.