TV resolution: Why it matters to you
By The Vann's Editorial Team
Last revised December 3rd, 2009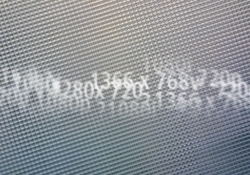 If you've looked at TVs lately, chances are you've heard something about HDTV. You may have also heard terms like 1080i or 720p thrown around. But what does it all mean? More importantly, why should you care? What's important? Our team of knowledgeable professionals is here to help guide you through the confusing world of HDTV resolution.
Quite simply, resolution refers to how detailed the picture is. There are two parts to resolution. The first is the number of pixels. The second is the scan type.
If you've ever looked very closely at a TV while it's on, you can see very tiny squares of color. These are the pixels, and when all the individual squares of color are put together, it forms the picture you see. Pixels are arranged on a grid, so the number is measured as the number of horizontal lines times the number of vertical lines. Up until recently, TVs only showed one grid size, 720 x 480. Since resolutions are known by the number of vertical lines, this is called 480i or 480p (more on the letters later). This is still the resolution found on standard TV channels, VHS tapes, and DVDs. In the past decade, high-definition (HD) TVs have become increasingly popular. HDTVs are commonly available in two different numbers of pixels. The first is 1280 x 720 (720p). The second is 1920 x 1080 (1080i or 1080p). The five resolutions mentioned are the only standard resolutions available now. So why would you care whether you have 480p, 720p, or 1080p? That's simple. The more pixels you have, the more detailed your picture will be. In fact, if calculate the number of individual pixels, 1080p has almost six times as many as standard definition, which means that the picture will be about six times as clear! Not only will the picture be much, much better with HD, but since the pixels are smaller, you can sit closer to the TV without losing picture quality. And most HDTVs provide better color options than their older counterparts, so your picture will be even better. For HD sources, Blu-ray discs carry 1080p video, while HD television channels and many other HD sources display either 1080i or 720p (or sometimes either). Soon, some channels will also start being broadcast at a resolution of 1080p. Blu-ray discs will continue to increase in popularity as more and more people replace their old tube TVs with newer, more energy-efficient models. Keep your source content in mind when choosing a TV.
The second part of resolution is the "i" or "p" that follows the pixel number. This refers to the scan type. Movie theaters show movies using a series of individual pictures. However, TVs display those pictures in lines rather than as whole pictures. Some TVs show all the odd lines in 1/60 of a second, followed by all the even lines, so the entire frame has been shown in 1/30 of a second. This is known as interlaced scanning, and is represented by the "i". The "P" on the other hand, stands for progressive scanning. With progressive scanning, each line is displayed in order, top to bottom, within 1/30 of a second. This provides a smoother, clearer picture than interlaced, especially when viewing action like sports or thrillers. That happens because even within 1/60 of a second, the scene could have changed slightly, so interlaced scanning could leave unnatural artifacts with motion. When you remember that many sports races are measured in hundredths of seconds, it's easy to see the advantage to progressive scanning. In fact, many people consider 720p to provide a better picture than 1080i even though it has fewer pixels.
As a final note, the resolution refers to the maximum resolution a TV can display, so you don't have to worry that your DVD collection won't play on your new TV. HDTVs can still play lower resolutions, but that usually won't provide a better picture than before. There are products with video scalers that will increase standard-definition content to HD, but these are not on every model. And likewise, if you have a 1080i or 1080p source, it can play on a lower resolution TV, but it will have to be scaled down first, so you won't be getting the most out of your picture.