Virtual surround sound: Getting multi-channel sound from two speakers
By The Vann's Editorial Team
Last revised October 12th, 2009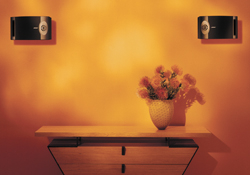 If you've recently given any serious consideration to expanding your home audio/video system, you've no doubt heard a lot about surround sound. There's rarely a conversation about home theater without mention of some sort of fancy new technology or acronym that may or may not mean anything to you. We find that one of the more confusing aspects of home theater sound is the issue of "virtual surround sound" and systems claiming to deliver full, multi-channel surround sound through just two speakers. Is it really possible to create a convincing surround-sound effect using only two stereo speakers? Are all the fancy names just marketing jargon used to make a system come across as being better than it really is?
Well, thanks to science and innovative engineering, we're happy to report that there really are systems available today that deliver a realistic surround-sound experience while utilizing only two speakers. Science has discovered the way the brain processes sounds picked up by the left and right ears and translates subtle differences between the two into cues that indicate directionality. With a complete, full surround-sound speaker system, there are speakers located around the room, all directed toward the place where you do most of your listening, like your couch or favorite chair. With virtual surround sound, special algorithms (detailed sequences of actions) are created to simulate the effects of full surround sound. When a multi-channel audio signal is processed by one of these systems, some of the signals are delayed, while others are directed to bounce off of walls to approximate the effects of speakers to the sides and rear.
With a virtual surround-sound system, you can enjoy the advanced audio information contained on DVDs and even some advanced broadcasting methods without having to redesign your entire home theater. If you don't want to buy a new set of surround sound speakers, but still want to experience the effects designed into multi-channel audio, a virtual surround system may be just the thing you're looking for.
The science behind virtual surround sound
As mentioned earlier, we owe a big part of virtual surround-sound success to science, and psychoacoustics in particular. Psychoacoustics — the study of the subjective perception of sound — has been instrumental in the development of surround-sound technologies.
Psychoacoustics has helped scientists discover that the brain responds to two main factors related to sound directionality. These are, generally speaking, the time it takes for sound to arrive at your ear, and the loudness of the sound in each ear. If a sound comes from your left side, your left ear will hear it first. The sound must then travel around your head to reach your right ear. The sound is heard later in your right ear, and it sounds softer because your head is actually "shading" the sound. Because of these factors, your brain perceives the sound as coming from your left side.
So, what about people who don't want to go as far as investing in and installing a multi-channel surround-sound audio system? Enter virtual surround. Developing sophisticated technology, and taking advantage of 5.1-channel audio encoding, engineers created a simulated surround-sound effect available from just one or two speakers.
Why virtual surround?
While the quality of virtual surround-sound systems has continued to improve, it's highly unlikely it will ever surpass the excellence of a true surround-sound speaker system. The ideal listening area is generally smaller with virtual surround sound, and the power is often less than that of a full system. So, if the highest quality in sound is what matters most to you, you might be best to delve into the world of surround-sound speakers and components.
However, there may be other things that you consider to be important in the designing of your home audio system. For example: How large an investment you are interested in making. How much space you have to dedicate to your audio and video equipment. How dedicated you are to the task of integrating a full surround-sound system into your living room.
If you're an audiophile, chances are you'll want to experience the effects that a full set of surround-sound speakers and the appropriate components can deliver, no matter how much space you sacrifice, or how many wires you have to route through your walls. If, however, you want to enjoy great sound from a more modest set-up, a virtual surround-sound system may be just what you're looking for.
Today's virtual-surround systems tend to be more compact, easier to install, and less expensive than full surround-sound systems. And, there will be far fewer feet of speaker cable to disguise. As stated, virtual-surround technology has done nothing but improve over the last few years, and there's a good chance it will take up even less room than your current stereo setup. If you're still using an audio system that's several years old, a new virtual surround solution will surely knock your socks off, and you'll be sucked into the new wave of home theater sound.