GPS: Get where you're going
By The Vann's Editorial Team
Last revised October 12th, 2009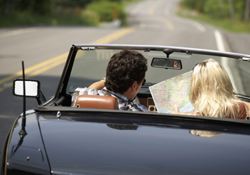 Automotive GPS (Global Positioning System) units are no longer just reserved for high-end automobiles that well-to-do drivers used to find their way from their downtown condos to their cottages in the country. Now affordable, dash-mounted GPS units are helping everyone from summer vacationers to pizza delivery personnel find their way to their destinations.
Could you tell me where . . .
Today's automotive GPS units include highly detailed maps that feature millions of point of interest throughout North America (or other countries if you purchase additional software). Locate destinations like hotels, restaurants, gas stations, and attractions.
Like having a personal assistant in your car, guiding you turn-by-turn, in-car navigation systems provide important information, including where you are, how to get where you're going, speed, distance, time to destination, and more. Concentrate on the road without worrying about finding your way.
How does GPS work?
The Global Positioning System (GPS) is a satellite-based navigation system made up of a network of at least 24 satellites placed into orbit by the U.S. Department of Defense. GPS was originally intended for military applications, but in the 1980s, the government made the system available for civilian use. GPS works in any weather conditions, anywhere in the world, 24 hours a day. And there are no subscription fees or setup charges to use the service.
GPS satellites circle the earth twice a day in a very precise orbit and transmit signal information to earth. GPS receivers take this information and use triangulation to calculate the user's exact position. Essentially, the GPS receiver compares the time a signal was transmitted by a satellite with the time it is received. The time difference tells the GPS receiver how far away the satellite is. Now, with distance measurements from a few more satellites, the receiver can determine the user's position and display it on the unit's electronic map.
A GPS receiver must be locked on to the signal of at least three satellites to calculate a 2D position (latitude and longitude) and track movement. With four or more satellites in view, the receiver can determine the user's 3D position (latitude, longitude, and altitude). Once the user's position has been determined, the GPS unit calculates other information, such as speed, bearing, track, trip distance, distance to destination, sunrise and sunset time, and more.
Hands on the wheel, eyes on the road
We've all seen it in the movies. A driver is lost, so he unfolds a map to try to find his way — while he's still driving. Soon he's paying way more attention to the map than the road . Which is usually when the huge semi enters the picture. Unfortunately, this also happens in real life. People try to read maps while they're driving, and while their eyes follow the map, the car follows an anything-but-straight line, veering this way and that. Meanwhile, safer drivers have to pull over to get their bearings.
Automotive GPS units do away with some of these bad driving habits. In addition to the detailed, high-resolution map screen, voice prompting lets you know when your next turn is coming up, so you don't have to concentrate on anything other than driving. The units mount on the dash or even the windshield via a suction cup mount, and many have touch screen, full-color LCD screens that are easy to see, and provide simple navigation.
Beyond GPS
Today's GPS units give you much more than just directions. They can serve as everything from an MP3 player to a speedometer, to a hands-free cell device, to a radio traffic report, to a travel buddy with currency converters, calculators, and translators. Features vary by model, but most have bonuses, so be sure to look and see what all the device you're looking at is capable of.
So today's GPS receivers don't only tell you how to get from point A to point B, they can also help you re-route during problem situations. Many models also offer options to re-route based on fastest route, shortest route, or even the most economical route. If you do make a wrong turn, the GPS unit automatically gives you new voice-prompted directions. GPS is an invaluable navigational asset that offers safety, reliability, and expedience to your city and highway travel, ensuring that you arrive collected, without a scratch, and on time.