3CCD: Photography meets lightsaber technology
By The Vann's Editorial Team
Last revised October 12th, 2009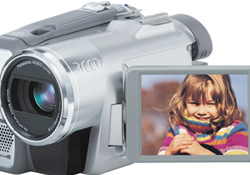 We live in an age of increasing specialization. Try looking up jack-of-all-trades in the phone book and you'll find a blank space staring up at you from between jack cheese wholesalers and Japanese language lessons.
The benefit of specialization, of course, is that the job is done right. The evolution of the 3CCD image sensor is the manifestation of that trend in photographic technology. When imagining a CCD image sensor, think digital film. With a 3CCD image sensor, think of a beam of light split into its constituent parts and fed to three separate CCDs, each dedicated to doing its job. One's a red specialist. Another, blue. The third? Well, it's got green down to a science.
Higher resolution, truer colors, and improved low-light sensitivity are just a few of the reasons for choosing a 3CCD camcorder. Traditional single-CCD camcorders capture all the colors on the same chip resulting in degradation of the memories you're trying to preserve. Images produced using a 3CCD are dramatic improvements on those of their do-it-all cousins.
The increased sensitivity inherent in a 3CCD permits users to shoot in truly low light without the need for the much-advertised compensatory measures of infrared gadgetry, or night vision. There is one downfall to using a camcorder with 3CCD technology: you'll be hailed as the extended family photographic specialist. Plan on attending a lot more school plays and soccer games.