Cooktops: A great division of labor
By The Vann's Editorial Team
Last revised October 12th, 2009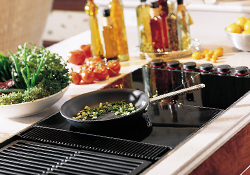 Imagine Shaquille O'Neal decides to quit basketball and take up professional cooking. Shaq's endeavor won't get that far if he's using a traditional combination cooktop/oven that's less than four feet high. Granted, he's got a big wingspan, but he might suffer eyestrain trying to focus on food that far away. With a cooktop, he can customize his cooking set up and make slam-dunk meals. Shaq-etizer, anyone? While the average cook doesn't need to worry about that level of customization, flexibility in design allows you to develop a more creative, pleasant, and useful space. Plus, a cooktop can be placed on virtually any countertop, including islands, so your design options are wide open.
Cooktops, like cars and phones and everything else these days, come in all sorts of styles. First you have to determine if you like cooking with fire or electric heat. Cost of operation is fairly similar; it's mostly a matter of preference. Other usual suspects include induction (cooking with magnetism), halogen (a radiant cooktop plus super sophisticated lamps), electric (solid or coil — the most basic element out there), radiant elements (which hide under a ceramic glass smoothtop), and of course, sealed or open gas burners. So, before you decide on a cooktop, ask yourself this: Just how messy of a cook are you? The answer will help you on your cooktop quest.
Another key benefit that cooktops offer is expanded functionality. You want six burners, you get six burners. Cooktops eliminate boxy ovens from the equation, which give you more cupboard space. Mix and match features like ribbon sizes, cooktop colors, knob or digital controls, and style preferences. As an added bonus, cooktops frequently come with optional interchangeable elements as well, so if you want to make your own version of the world's best french fry, swap out burners for a deep fryer. Griddles, woks, rotisseries, and steamers are also common options.
Separate cooktops, besides being the preferred style of professional chefs, are ideal for many situations and personalities. For instance, if you're more of a chef than a baker, if your kitchen space needs more flexibility, and if you want counter-top customization, a separate cooktop is the perfect answer. The details are up to you.