Ranges: For your home on the range
By The Vann's Editorial Team
Last revised October 12th, 2009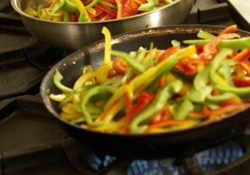 Despite your newly remodeled living room, complete with leather furniture and mood lighting, your guests still migrate to, you guessed it, the kitchen. And, let's face it: if you're a chef or a baker, the kitchen is where you feel most at home, too. But before you invest in the first modern range you come across, step back and take a few moments to determine what kind of a cook you are ask yourself a few questions. Do you like cooking with fire or electric tops? Are you messy or precise? A chef or a baker? Knowing these traits about yourself will help you pick the perfect range.
Electric or gas? Similar to how thousands of different styled vehicles all run on a few of the same fuel options, ranges are either electric or gas. From there, the options and features extend in all directions. Electric surface elements tend to heat faster and maintain low heat better, but a gas flame makes it easier to see the heat level and tends to offer higher temperature options. Choices among electric ranges now include traditional coil and improved smoothtop models where the heating elements lie below a durable ceramic glass surface. On the other hand, gas ranges offer steel or cast iron grates and sealed burners, which prevent wayward crumbs and spilled sauces from falling under the cooktop. Both gas and electric offer the options of convection technology, bridge elements, warming drawers, and spill-enclosing, one-piece upswept cooktops.
Being a devout believer in the best of both worlds, some smarty in some appliance think tank somewhere thunk up the idea of a dual-fuel range, pairing a gas cooktop with an electric oven, and, not surprisingly, the idea caught on. Dual-fuel ranges now account for a large percentage of all ranges sold. Even among combination ranges you have the choice of free-standing (which typically have oven controls on the backsplash), slide-in models (which eliminate the backsplash and side panels to blend into the countertop), and drop-ins (which rest atop toe-kick-level cabinetry and typically lack a storage drawer).
Increasingly, you'll also see high-end, free-standing, professional-style gas ranges sporting beefy knobs, heavy cast-iron grates, stainless steel construction, and four or more high-powered burners competing for consumer dollars. If you're cooking for a family of eight, running an impromptu soup kitchen out of your house, or simply want to own the Hummer of the culinary world, you might be in the market for a pro-style gas range.
One last thing to consider: a range with a vent hood. Vent hoods whisk away harmful irritants like smoke, fumes, and odors with powerful fans, making a cleaner, healthier environment for you and your visitors. Some hoods even provide extra lighting for your range. Choose from either updraft or downdraft vents. Whatever combination of range features appeal to you, mix and match 'em until you've got a new home on the range customized to your taste.