Portable media players: Get it "to go"
By The Vann's Editorial Team
Last revised October 12th, 2009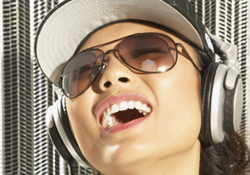 The first iPod was released on October 23, 2001. Since then, they have come a long way. Today's iPod lineup includes models that can say the name of your song, record video, hold up to 40,000 songs, or even surf the internet. But it's important to remember that while iPods are easily the world's most popular portable media players, they are far from the only players in the game. Many other portable media players are available. Below, we'll explain what's available and what the pros and cons are on both the Apple side and the side with Windows.
The Apple of the world's eyes
There's no denying the iPod's dominance in the portable media player category. With over 220 million units sold so far, and a 74% market share, it's pretty easy to see that the iPod is the most popular portable media player available. And why not? It's sleek, strong, and simple in ways only Apple products can be. And there's an iPod for everyone. Here's the current lineup:
iPod shuffle — Despite being smaller than a USB flash drive, the shuffle packs 2GB or 4GB of memory, allowing you to play up to about 1,000 songs. There are no buttons on it, as in zero. Instead the controls are on the headphone cable, and it charges and syncs using the headphone port. It also features VoiceOver, which says the artist and the song name at the press of a button. And it comes in a variety of colors.
iPod nano — The latest generation of nano comes in 8GB and 16GB sizes and seven different colors. It plays music, including Genius playlists it creates for you, displays photos, and allows you to watch movies, all of which can be done widescreen of fullscreen by turning the iPod. Shaking it shuffles to a new song, which VoiceOver can tell you about. But that's just the beginning. You can listen to songs on a built-in FM radio. And best of all, you can record not only voice memos, but video with a built-in camera!
iPod classic — The only iPod still using a hard drive, the classic offers 160 GB of storage, so you can keep your whole library of photos, music, and videos in one pocket-sized device. It comes in two colors, black and silver. And its price-per-Gigabyte is the best of the set.
iPod touch — This model comes in only one look, doesn't have a camera, stores 16GB or 32GB, and is the most expensive of the iPod line. So why is it the fastest-growing? Well, simple. It's got a full touch screen and the iPhone 3.0 OS. It's Wi-Fi enabled, and has full access to iTunes and the App Store wirelessly, so you can download games, tools, and more from a selection of more than 75,000 without going near the computer.
The iPod has some really great things going for it. Aside from the variety of features offered model-to-model, which provides an iPod for every personality, there are several other advantages Apple's portable powerhouse has. For one, iTunes. There are versions for Windows or Mac, and aside from letting you import a variety of files, you can download from perhaps the world's largest music library for about a dollar a song. Syncing is simple — all you have to do is connect your iPod. Ease of use, a point of pride for Apple, is also unrivaled on the iPod lineup; both iTunes and the devices themselves have intuitive user interfaces. And of course, you can't mention iPod, or any Apple product, without sleek design being a factor.
However, there are a couple things working against the iPod, although that hasn't put a damper on its party so far. As with most Apple products, the price compared to other models with similar specs is high. The smooth operation and smoother looks of Apple come at a price. The other main issue, compatibility, is one that affects only some users. While iPods work with Windows computers, Windows Media audio files must be converted before an iPod will play them. Additionally, protected content from some sites like MSN or Napster cannot be played on an iPod.
But for every flaw, there are a dozen desirable features on the iPod. There's a reason they have such a popular following.
Windows of opportunity
Since Apple has nearly a 74% market share, it's only fair to say that the categories are iPods and "everyone else." But don't expect a substandard littering of products here. The competition might not have quite the following of Apple's pride and joy, but they do have a lot of great features — sometimes even features the iPod doesn't have. And on top of that, you can usually get a lot more capacity for the same price as an iPod.
Some models, like 2nd-place Sandisk's Sansa line, let you expand your memory with microSD cards, or insert a slotRadio card with 1,000 great songs pre-loaded for under 100 dollars. Other models, like Microsoft's Zune, give you a wide variety of customization options, and wireless syncing. The Zune HD even allows you to store HD video content and play it on external TVs. Some models offer HD radio reception and playback. Some, like the Sony Walkman, can sweeten the deal compared to a similar iPod by offering 100 free song downloads. The Walkman also offers better sound quality than competitors.
One key feature of non-Apple portable media is that they are usually able to play a wider variety of media than iPods. While no non-Apple model can play Apple's exclusive formats, they can usually play all the other common formats iPod can, as well as others like WMA and protected music from sources like Napster or MSN. And to load songs, it's usually a process of just putting the files in the right folder while the player is connected.
Let the music play
Whether you decide to go with Apple, or against the grain, chances are you'll get a great device to play your favorite movies, photos, and music while you're out and about. This is a significant purchase, so make sure to figure out what features you want and find out which player has those. Above all, iPod or not, pick the player that's right for you.