Surround sound: Get real
By The Vann's Editorial Team
Last revised October 12th, 2009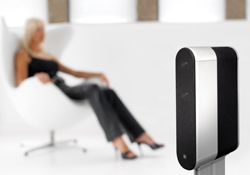 The difference between living with surround sound versus living without it is the difference between being in the concert hall versus standing outside, wishing you were. It isn't until you've had a pack of race cars tunneling in your left ear and out your right, or felt the need to duck bullets fired from an on-screen gun, that you know the meaning of the word ecstatic &mdash the meaning of surround sound.
Today, there is a surround-sound solution for every budget and every room. On the inexpensive end, 2.1-channel virtual surround sound systems pack a lot of power in under their not-so-frightening price tag, while, going all-out, you can ring the entire room in high-end floorstanders, with a center channel and subwoofer at its core — your very own Stonehenge of sound.
Modern surround sound recordings acknowledge that the human ear hears more than those sounds directed at it from straight ahead. Research proves that in a live musical environment, approximately 30% of what we hear is direct sound while 70% is reflected from walls, ceilings, and floors, reaching our ears only a few milliseconds after the direct sound. The human brain uses direct sound for identification and to calculate location, but uses reflected sound to determine musicality and spaciousness, as well as direction. If our ears detect an inadequate amount of reflected sound or if the reflected sound that arrives is either too late or too early, then the reproduced music is identified by the brain as artificial.
A speaker capable of recreating the correct direct-to-reflected ratio would reproduce sound with far greater realism and faithfulness to the original instrument and environment, creating a tremendously large soundstage that makes the listener believe the sound is virtually coming from beyond the walls. Surround sound, or, more accurately, multi-channel recording, spreads out the component parts of a performance, so you get different instruments in a band, or different actor's voices, from discernibly different parts of the stage. Your body and mind are convinced that they are there. That's surround sound, at its best.
Historically, surround sound has been restricted to movie theaters. Dolby Digital, DTS, THX: whatever the specific encoding technology, movies at the local megaplex just sounded better. Movies never sounded that good at home. The gap between movie theater sound and home theater sound was always more grand canyon than mere gully. That is, until now.
You'll be thrilled to know that a slew of new technologies, fueled by the boom in sales of home theater equipment, now allow you to rival the supremacy of the actual cinema, from the comfort of your couch.
You should be equally thrilled to learn that filling your family room or home theater with superior sound doesn't have to be a highly expensive nightmare of wires and endless speaker adjustment. Today, there is a surround-sound solution for every budget and every room. The bargain-minded will appreciate 2.1-channel virtual surround-sound systems, which are able to reproduce lush, vibrant aural effects from two simple speakers and a subwoofer. Thanks to advances in the science of psychoacoustics — the study of how people hear — a 2.1-channel virtual surround system can create the illusion of additional speakers by adjusting the loudness, arrival time and direction of the sounds coming from the speakers.
But let's say unassuming isn't your style. You want to sit atop your leather throne inside your home theater and bask in audio fit for an acoustic deity. And let's say, that you neither want nor need a lesson in the physics of sound. You just want the most amazing sound imaginable. First, you'll want a digital receiver to decode the various formats that modern multi-channel recordings come in. Then you'll need three speakers in the front: one to the left, one to the right, along with a center channel speaker directly beneath the screen to firmly anchor the dialogue. For surround speakers, you need both a left and a right speaker to enjoy the 5.1-channel surround sound found on many DVDs and HD broadcasts. However, if you have a Blu-ray player, with a capable receiver, you can add two more channels (surround back left and right) and take full advantage of the uncompressed 7.1-channel Dolby TrueHD and dts-HD Master Audio on Blu-ray movies. Some receivers also allow additional subwoofers, up to three total. And, today's advanced receivers sometimes allow for two more channels using Audyssey DSX to add two front wide channels or Dolby Pro Logic IIz to add two front height channels for an even fuller listening experience.
Each additional channel is added to maximize special effects, establish a scene's setting, and help fill larger, more open spaces. The mysterious ".1" of 5.1, etc. refers to a special low-frequency-effects channel (LFE) dedicated to extracting those non-directional tones — more felt than heard — from the other channels and pushing them full-force through your subwoofer. That would be the shuddering and quivering in your intestines when an on-screen T-Rex stomps past. That humble ".1" on the other side of the decimal point is a vital part of a true surround-sound home theater experience.
So, regardless of the degree to which you are interested in investing in and experiencing surround sound — from two-channel virtual surround to seven-channel full surround sound — you can decide confidently with the assistance of Vann's knowledgeable staff. Call toll-free: 1 (800) 769-5668 to speak to a Vann's employee-owner.