DLP: The magic is in the mirrors
By The Vann's Editorial Team
Last revised October 12th, 2009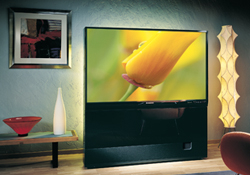 If the evil queen in the tale of Snow White and the Seven Dwarfs had to consult with the DLP chip in her rear projection DLP HDTV instead of just a plain old mirror on the wall, Snow White may have lived to a ripe old age right there at her home castle. After all, a 1080p DLP chip contains over two million mirrors. Consulting with each of them might have taken Queenie quite a bit of time.
Invented in 1987 by Texas Instruments, DLP (Digital Light Processing) is an Emmy Award-winning technology and the only display solution that enables projection TV systems to create a purely digital connection between a digital video or graphic source and the screen in front of you. While other technologies are analog and compromise some image quality in translation, DLP projection unleashes the full potential of high-quality video content. While it sounds like a fairy tale, the on-screen results of DLP technology are as real as the nose on your face.
DLP relies on a Digital Micromirror Device or DMD. This rectangular chip can fit in the palm of your hand and contains millions of microscopic mirrors mounted on hinges. Each of the mirrors corresponds to a pixel in the projected image. Through some fancy technology, the little mirrors change position to reflect different gradations and colors of light. When they tilt toward the light source, they reflect light (on), but when they tilt away from the light source, they are dark (off). Bit-streamed image codes entering the DMD direct each mirror to switch on and off up to several thousand times per second. Altogether, the reflection from the mirrors creates the picture on the screen. And what a picture it is! Because DLP technology can generate so many colors, the picture is more realistic and richer than that on other sets. Plus, when fast-moving sequences are shown, DLP will produce a sharper image with fewer motion artifacts. So the magic really is in the mirrors.
DLP TVs can have either one or three of these DMD chips, producing either 16 million or up to 35 trillion colors respectively. Those that use the one-chip system at their core use a projection lamp that casts light through a color wheel, projecting red, green and blue colors to the DMD chip in a sequential order. This creates the image you see onscreen. These models only require a single DMD chip to process the RGB hues. Three-chip DLPs operate in a similar manner, but rather than use a color wheel, three-chip DLPs cast bright white light through a prism that separates the reds, greens, and blues into their respective colored beams of light. Each color is sent to the DMD chip assigned to that color and is processed into the on-screen display.
While the one-chip DLP generates around 16 million colors, the three-chip version can reproduce up to 35 trillion. Either way, that's far more than the human eye could ever hope to discern. The benefit of having more colors on your screen than you can possibly differentiate is the increased realism of the picture. Even if you can't name all the colors your DLP produces, you'll definitely appreciate the true-to-life image you'll see on your screen. These mirrors will perfectly reflect Snow White' snow-white complexion, blood-red lips, and ebony-black hair. The distinction between these two DLP systems, other than the number of colors they are capable of displaying, is the price. The three-chip models can be quite expensive while the one-chip models are friendlier to your wallet. But don't let price fool you. The resolution in a one-chip DLP is still incredible and is a stunning addition to your home theater.
Those magic little mirrors don't stop at providing you with amazingly realistic images. Another advantage of DLP is its ability to display fast-moving sequences without the motion artifacts you might find elsewhere. Motion artifacts include blurriness, jagged edges, and flicker. Because the mirrors on the DMD chip can switch on and off at up to 15,000 times per second, they can keep up with the fastest-moving images, accurately reflecting the smallest change in position. Just like other types of television technology, DLP televisions also come with a variety of features. The more widely compatible a television is, the longer it will last in your living room. Some things to look for when making a purchase are HD-compatibility, HDMI inputs, and connections compatible with your legacy components (DVD, VHS, etc.). A CableCARD slot would be an added bonus, as this omits the need for an additional cable box to receive signals from your cable company. Most DLPs also come with features like parental lock and a user-friendly onscreen navigation system.
One thing you may not know about rear projection televisions, specifically those with DLP technology, is that they have a new, far more streamlined profile. In the past, rear projection televisions have been deeper and bulkier than other types of television. Not anymore. Some DLP televisions are as little as 11" in depth. That's about equal to a flat panel on a stand. So no longer is size a prohibitive factor in considering a rear projection DLP model.
With so many television technologies to choose from, knowing what kind of viewing you intend to do as well as what one technology offers over another, is vital to making an informed purchase. DLP technology offers a higher-quality display than most other high-end television technologies at an affordable price. It can also have the ability to last into the future with HD-compatibility and HDMI connections. Now that really sounds like the fairest of them all.