ENERGY STAR: Save earth, save money
By The Vann's Editorial Team
Last revised October 12th, 2009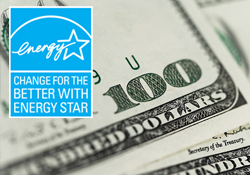 ENERGY STAR is a joint program of the U.S. Environmental Protection Agency and the U.S. Department of Energy developed to protect the environment with energy efficient products. Computers and monitors were the first products on board in 1992. Now, over 50 product categories come with ENERGY STAR labels, including office equipment, lighting, and home electronics. Results are adding up. Americans, with the help of ENERGY STAR, saved enough energy in 2005 alone to avoid greenhouse gas emissions equivalent to those from 23 million cars — all while saving $12 billion on their utility bills.
Save energy, save money
When buying an appliance, remember that it has two price tags: what you pay to take it home and what you pay for the energy and water it uses once you get it there. Did you know that the average home spends about $1,900 on energy costs every year? Your large appliances use a sizeable chunk of that money. With ENERGY STAR-qualified appliances, you save up to 30 percent or $600 per year on energy bills. That's $600 per year towards retirement funds, new appliances, or maybe even a skydiving ticket or two!
Where to start:
Your washer: Compared to a model manufactured before 1994, an ENERGY STAR-qualified clothes washer can save up to $110 per year on your utility bills. Through superior design and system features, ENERGY STAR-qualified washers clean clothes using 50 percent less energy than standard washers. Most full-sized ENERGY STAR-qualified washers use 18-25 gallons of water per load, compared to the 40 gallons used by a standard machine. ENERGY STAR washers also spin faster, wringing more water from clothes during the spin cycle. This reduces the required drying time and saves wear and tear on your clothes.
Your dishwasher: Replacing a dishwasher manufactured before 1994 with an ENERGY STAR-qualified dishwasher can save you more than $30 a year in utility costs. ENERGY STAR-qualified dishwashers use 41 percent less energy than the federal minimum standard for energy consumption. ENERGY STAR-qualified dishwashers also use much less water than conventional models.
Your refrigerator: In most households, the refrigerator is the single biggest energy-wasting villain. ENERGY STAR-qualified refrigerator models use 40 percent less energy than the conventional models sold in 2001. ENERGY STAR-qualified refrigerator models use high efficiency compressors, improved insulation, and more precise temperature and defrost mechanisms to improve energy efficiency.
Help protect the environment
Simple actions CAN make a big difference. If just one in ten homes used ENERGY STAR-qualified appliances, the change would be like planting 1.7 million new acres of trees. By choosing ENERGY STAR, you help prevent global warming and promote cleaner air without sacrificing the product quality and performance you expect. If you're looking for new appliances, look specifically for ones that have earned the ENERGY STAR seal of approval. You'll be glad you did.
(Information gathered from the official ENERGY STAR web site: http://www.energystar.gov/)