Front-load washers: The times are a-changin'
By The Vann's Editorial Team
Last revised October 12th, 2009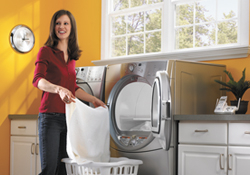 As of January 1, 2007, the U.S. Department of Energy established new ENERGY STAR approval standards in home appliances. Higher standards? That's good news, for the earth, your grandchildren, and your clothes! The bad news is that almost every existing top-loading washer will fall out of compliance with the new ENERGY STAR standard. That means customers usually need to purchase front-load washers to qualify for available rebates and incentives for energy savings in appliances. In response, many manufacturers and power companies are currently offering additional rebates to help encourage customers to make the step up to a front-loader.
Rebates are always nice, but they are not the only — heck, not even the best — way to save money when you buy a front-loading washer. Sure, you'll drop a couple hundred bucks on day one, but you'll begin recouping cash with your very first load of laundry and you'll continue saving until your very last. Rolling around in your clean, clean clothes and all that money you saved on energy bills reinforces why you went with a front-load washer.
Here's why:
You value the clothes you wear, delicate fabrics and tough denims alike. So should your washer. A front-loading washing system tumbles your clothes in a small pool of water. Compare the gentleness of a front-loader's tumbling with the top-loader's "central agitator," whose paddles beat clothes to get them clean. Who wouldn't rather plunge repeatedly into a soapy bath of hot water than be held under water and thumped? Choose the kinder, gentler washer: the result is cleaner clothes that suffer less wear and tear. Envision an end to the costly replacement of your permanently soiled and prematurely threadbare duds.
Okay, common sense tells you that cleaner clothes means more water and soap — which adds up to a more expensive load of laundry. Wrong. Front-loading washers use about half the water that a top-loader does. So your detergent dissolves in about 5 gallons of water rather than 30 gallons. Water is kept hotter and more detergent-concentrated to get your clothes cleaner. And, without a central agitator taking up space, you can fit more laundry in each load. Less water + less detergent + more laundry per load = more savings.
Savings are just the beginning of the many benefits that front-load washers offer. Some models use sanitary cycles to zap bacteria into oblivion. Stainless steel tubs don't chip or rust like porcelain coated washtubs, and their smooth surface prevents snags from happening. Plus, front-load washers can actually be stacked, a design bonus that top-load washers and dryers could never even dream of. With spin speeds of over 1000 rpm, your clothes emerge from a front-loading washer virtually dry. Less time in a drier means substantially lower electricity bills.
To top it off, the average front-loader has twice the expected service life of a top-loader. That's twice as long for it to pay you back after deciding to buy the better washer.