Digital cameras: Get the FAQs
By The Vann's Editorial Team
Last revised October 12th, 2009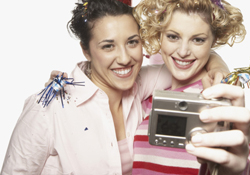 Why is there a delay when I try to take a photo?
You may have noticed that there is a delay on your digital point-and-shoot camera between when you push the shutter button and when the photo is taken. This delay occurs because the camera must transition between transmitting a low-quality live image to the LCD and sending a high-quality image to the CCD image sensor. Every point-and-shoot will have this type of delay, which may last between a fraction of a second and a full second. In contrast, digital SLRs lack this delay because they don't divert the image received by the lens to an LCD. The image captured by an SLR's lens is reflected via mirrors within the same chamber as the CCD to an optical viewfinder. Pressing the shutter button on an SLR immediately exposes the CCD to the light entering through the lens, without a delay.
Do I really need a high-speed memory card?
The answer is: No, not necessarily. The only time that you actually need a high-speed memory card is if your camera has the ability to take a series of photos in continuous mode (also known as "burst" that may ultimately fill up the camera's internal memory buffer (most point and shoots don't have this feature). A high-speed card will help you to "clear" that buffer quicker thus allowing you to take more photos faster. If your camera has a continuous shooting mode, it's highly recommended that you get a high-speed card.
What is the difference between the optical and digital zoom?
Optical zoom refers to the physical limitations of the actual lens and is usually expressed in a multiplication factor (i.e. 3X optical zoom). Optical zoom has a direct bearing on image quality while digital zoom acts, instead, as a cropping feature. At maximum optical zoom, the digital zoom effectively crops the image without increasing image quality. Optical zoom is the key feature to keep in mind when deciding on a digital camera.
What is Wi-Fi doing on my camera?
Wi-Fi functionality is a new feature only available on a select few cameras. It takes full advantage of the wireless age we live in by allowing users to transfer images wirelessly to a wireless-equipped computer or printer up to 100 feet away without interruption. There's no longer a need to connect your camera directly to your computer or take out your memory card with a Wi-Fi-enabled camera — push one button and it's done. Wi-Fi gives you the ability to move batches of images or streamline your photographic endeavor by using the Wireless Shooting mode to send pictures as soon as they are taken.