TV refresh rate: Banish the blur
By The Vann's Editorial Team
Last revised October 12th, 2009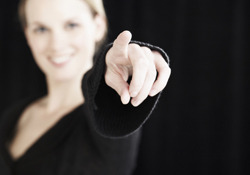 Most HDTV manufacturers will talk about how great their TV is for processing motion. But trying to figure out what your TV's motion processing should be on your own? That Hertz, no pun intended. That's why we're here to help you through the complicated claims of refresh rates.
Most movies are recorded at 24 frames per second (24p). These individual pictures act like a flipbook to show motion. But, most TV shows are shot at 30p. On top of that, some things, like certain special effects, are recorded at 60p. Standard TVs display 30 frames every second. Remember that they used interlaced scanning almost exclusively before DVDs, so each frame is made of two parts, the odd lines, and the even lines. Since the TV shows two images for every frame, the true refresh rate of the TV is 60Hz. See the problem? For special effects, the TV would only show the first half of one frame and the second of another. TV content would not have problems. Each frame would just be shown once and it would come out evenly. But 30 isn't evenly divisible by 24. To make up for this, the TV would use what's called 3:2 pulldown. The first half of one frame would be shown, then the second half of the same frame. After that, the first half of the second frame would be shown, then the second half of the second frame. But then the first half of the second frame would show again, followed by the second half of the third frame. Then the first half of the third frame is shown. After that, the fourth frame's second half, then first half, then second half again are displayed. This is repeated over and over to show film on standard TVs. By using 3:2 pulldown, a TV effectively turns 4 frames into the space of five. But this can cause unwanted picture effects like flicker or artifacts. This led to most home TV viewers having a distinct feeling of being separate from the action.
But, with HDTV technology, many TVs now come with 120Hz or 240Hz refresh rates. These higher numbers are all evenly divisible by 24, 30, and 60, so the number of frames will be even frame-to-frame. And because there are more frames, the amount of time between frames is shorter, so our eyes perceive the motion as being smoother. This helps give 240Hz an edge over 120Hz. But some models even take it a step further. Most new models of any refresh rate have quicker response times for better motion. But many 120Hz and 240Hz models also have interpolation technology to improve motion even further to provide you a crystal-clear picture. While changes and viewing results will vary based on a lot of factors, and each manufacturer will be slightly different, the motion on a 120Hz or 240Hz will look much smoother than a TV with 60Hz scanning.