Freezers: Which one's right for you?
By The Vann's Editorial Team
Last revised October 12th, 2009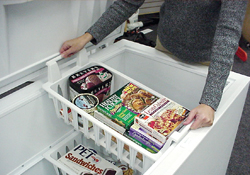 Stand-alone freezers are a popular addition to many homes, allowing extra storage space for months' worth of frozen food. But how do you know what kind of freezer to purchase for your home? Here are some tips to help you decide what size and style will work best for your needs and your space.
1. First, consider what you're going to store in a freezer. Do you stock up after hunting season or do you just need a little space for pizzas and orange juice? The answer distinguishes your needs from a normal freezer/refrigerator combo and whether you're ready to invest in a stand-alone freezer.
2. Next, where do you want to keep your freezer? Though most people put them in basements or garages, it is becoming more popular to include stand-alone freezers in the kitchen. If you use your freezer daily, the kitchen is convenient. But if your trips are less frequent, then a less central location works just fine.
3. After you have determined where you want your freezer, measure how much space is available in that spot. The amount of floor and wall footage will tell you your maximum freezer size and help determine whether you want an upright or a chest freezer.
4. If you are looking for a space to store this year's deer, pounds per cubic foot is a big deal. Freezers can hold 15-20 pounds per cu. ft. For example, a 20 cu. ft. freezer will hold 300 to 400 pounds of food. Keep this in mind when you're deciding which freezer to purchase.
5. One of the more difficult choices you have to make is whether you want an upright or a chest freezer. Each has its own benefits. Here is what you need to know to help decide between the two.
Upright freezers look just like refrigerators, so they don't need as much floor space as chest freezers. They're available in auto-defrost, so you won't have to worry about unloading, defrosting, draining, and reloading your freezer every six months. Unlike chest freezers, uprights contain multiple shelves and door storage. Due to the rush of warm air every time you open the door, uprights are less energy efficient than chest freezers.
Chest freezers, which open from the top, are generally cheaper than uprights. You'll never worry about a flying package of hamburger with this design. They have better temperature control and hold more items than uprights. Chest freezers tend to be manual-defrost, so you will have to do the defrosting yourself every 6 months. If a windstorm cuts your power, chest freezers keep their cool longer than uprights. The primary complaint about chest freezers involves digging for and/or losing food because of their design.
Hopefully now you have a better idea of what kind of freezer suits your lifestyle. Remember to keep whatever freezer you invest in 2/3 full for optimum operation. If you don't have enough pizzas or hunks of meat to fill your freezer 2/3 full, fill an empty milk jug with water and freeze it to make up space. Good luck and bon appetit!