Receivers: The buyer's guide
By The Vann's Editorial Team
Last revised October 12th, 2009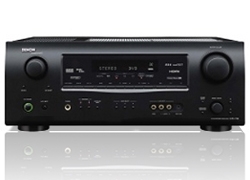 A receiver may seem like just a fancy box to plug stuff into, but it's actually the heart of your home theater system. Because it has most (if not all) of the inputs you need to connect your HDTV, surround sound speakers, gaming systems, and other components, it allows everything to work together as one system. And, since it's such a crucial part of your entertainment experience, there are several things you'll want to consider before you make your purchase. That's why we compiled this guide — to inform you in straightforward terms so you can make the best decision. And if you have any questions, please don't hesitate to contact a Vann's sales representative.
Channels
To produce and properly project surround sound, the receiver splits audio in multiple, separate channels. These channels are then sent to the appropriate speaker. A 5.1 setup has five full-range channels (left main, right main, center channel, left surround, right surround) and a low frequency channel (subwoofer). There are also 7.1, 7.2, 9.1, 9.2, and 9.3 channel systems available. Most receivers today are 7.1, which gives you the versatility to do practically whatever you'd like, including running two speakers to a separate room.
Watts per channel
The amount of power a receiver sends per channel is measured in Watts. So, a 105 Watt x 7 Channel receiver can send 105 Watts of power to each of seven channels. The amount of power doesn't always equal decibels or sound quality. Some speakers handle power more efficiently than others.
Power handling
Power handling is the amount of power (or Watts) that a speaker can handle. When purchasing a receiver, always make sure your speakers can handle the number of Watts the receiver will be sending them.
Inputs
Since it has so many inputs, looking at the back of a receiver can be overwhelming. The most important to look for to future-proof your receiver are HDMI inputs, ethernet connections, component video hook-ups, and digital audio inputs.
HDMI inputs
HDMI stands for High Definition Media Interface. It carries high definition audio and video signals to your television, and is an important interface in today's home theater. The convenient thing about HDMI is that you can connect your DVD player, cable signal, and other devices into the back of the receiver, and it will send the best (both audio and video) signal to the television via a single cable. Some receivers are capable of switching, up-conversion, and scaling, which we define below.
HDMI switching
HDMI switching is great because your devices can all be controlled through the receiver. This makes it possible to switch from different source components (DVD, Satellite, Blu-Ray, etc) without having to mess around with cables or extra steps.
HDMI upconversion
Some receivers have the ability to take different components and send all of their signals out of a single HDMI output. This doesn't mean your VCR will suddenly play in HD, but it does make it easy to connect everything to the TV. Plus, some receivers have other technology built in to help this process even more.
HDMI scaling
Scaling is the technology used to change a lower resolution signal to a higher resolution output. For example, scaling from 720p to 1080p works with a built-in processor (like HQV or Faroudja), which some receivers may or may not have.
Ethernet input (network connection)
An Ethernet input gives you the ability to access audio and video files stored on your computer or digital media server.
More features
As you can see, receivers have numerous capabilities. And, there are many receivers available with prices that vary from a few hundred dollars to a few thousand. But the list doesn't stop yet! Here are a few more features you should consider before you make your purchase.
Automatic speaker calibration
Not every room is the same and sound quality depends on the room's atmosphere. Many receivers now come with automatic speaker calibration, which automatically adjusts the sound quality of your system for your room. There are varying degrees of calibration available, made by different companies.
Satellite radio ready
This feature allows you to add an antenna to your Satellite Radio Ready Receiver so you can get subscription-based XM or SIRIUS radio content.
iPod integration
Many receivers offer the option to purchase a dock that will hold and play your iPod music through your sound system.
Multi-room/multi-source/multi-zone
This refers to the receiver's ability to have more than one device in use in different areas. So, if your kids are watching a DVD in one room, you can play an audio CD at the same time in a separate room — with both devices connected to the same receiver. Each area you send signals to is called a zone, so our example with the DVD and CD players refers to two zones. The multi-zone numbering system helps you find the right receiver for your needs, but keep in mind the different ways receivers divide the zones impact just how you can set up multiple zones in your home. For questions regarding zones, contact a Vann's sales representative.
Don't forget the cables!
If you are using a Blu-ray player, a receiver, or anything else that is capable of sending a high definition signal, don't forget to purchase the right cables. Many people don't realize what a significant difference the right cables make, and when they get their new high definition equipment home, they think the equipment itself is to blame when the picture isn't as good as it should be. This is because most components (Blu-ray, receivers, etc) don't come with cables, so people often use whatever they have around the house, or buy cheap cables, thinking it doesn't matter what cables are used. Another reason people don't buy the right cables is because trying to figure out which cables you need can be daunting, and it's hard to know where to start. Our sales representatives are there to explain all your options, so you can make the best purchase and get the most out of your receiver.