LED: LCD's bright new future
By The Vann's Editorial Team
Last revised December 11th, 2009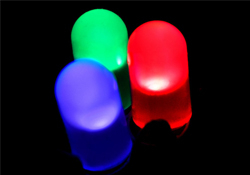 If you've looked at new TVs lately, chances are you've heard the acronym "LED" tossed around. Sure, you know about LCD, plasma, and projection TVs, but where does LED fit into all that? Actually, it's one of the most misunderstood concepts in HDTVs these days. Let us explain what LED is really about.
LED, as you might have guessed, stands for Light-Emitting Diode. It's the same technology used in all sorts of everyday items from traffic signals to indicator lights. It's been around for decades, but only recently did it start making its way into HDTVs.
First things first, we need to clear up LED's role on the TV scene. Plasma, LCD, and DLP are all TV technologies. LED, on the other hand, is not its own TV technology — it's a type of LCD TV. So what makes LED LCDs different from normal LCDs? Well, quite simply, the backlight. Most LCDs use incandescent or cathode light bulbs, while LED LCDs are lit by . . . you guessed it, LED bulbs.
LED LCDs offer several advantages over typical LCDs. First of all, they can produce a brighter picture with more vibrant colors than most LCDs can. This offers much better picture quality. But, it provides a better, brighter picture while using quite a bit less energy than typical LCDs do. Not only is this better for the environment, it can shave a lot off of your energy bill every month. Finally, LED bulbs can last much longer than other types of bulbs without losing quality, so your picture can look better longer with LEDs.
Although LED is a subcategory of LCDs, it too has its own sub-categories. There are two types of LED LCDs: Backlit, and edge-lit. We'll describe what each is and what the benefits are of each below.
Backlit LED models feature hundreds to thousands of LED bulbs placed behind the screen to illuminate the picture on the screen. The biggest benefit of backlit LEDs is that they have the opportunity to use a technology known as local dimming. This allows some of the bulbs to be turned off while others remain on, helping to create darker blacks, and therefore, much better contrast than typical LCDs.
Edge-lit LED models, on the other hand, house the LED bulbs around the edge of the screen instead of directly behind it. While this makes them unable to use local dimming, it gives them the potential to be extremely thin. Some edge-lit models are barely thicker than one inch.
And that's really about it for the differences between LED TVs and standard LCDs. Remember, if you hear someone advertising a "True LED TV," it's just clever marketing for an LED LCD. While they are a great improvement over traditional LCDs, they're not an entirely new TV technology.