Against the stream: The HDMI 1.4 audio return channel
By The Vann's Editorial Team
Last revised June 23rd, 2010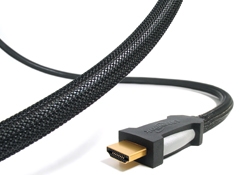 In our previous article, The future of HD at home — HDMI v1.4, we briefly mentioned the benefits of version 1.4's new Audio Return Channel. Now, we're going to give this functionality its due.
If you've been keeping up on HDMI technology, you understand the basis of it is to provide a "one cable" solution for your home theater needs. Of course, it goes beyond the simplicity of one cable. This modest little cable is capable of transmitting audio and video signals in their uncompressed format. These means seamless, high–fidelity video and surround sound for your home theater system.
Now, back to that "one cable" solution. Maybe it is the biggest benefit of HDMI. Your three components can be connected to your receiver using only three HDMI cables, one for each component. Your receiver can be connected to your television with one cable. The end result is that as the audio and video information moves along, your receiver picks up the sound, and the video flows smoothly towards your flat panel. Sounds too good to be true, and it almost is. But what about the audio from your television? Up until version 1.4, you had to figure out how to get uncompressed sound from your television with a built–in tuner, built–in DVD player, or streaming media (e.g. Netflix Internet and other widgets) back to your receiver. Usually, this was accomplished using an S/PDIF cable (a.k.a. a digital optical or digital coaxial cable). Not a bad solution, but not the best either.
Enter HDMI 1.4 and its Audio Return Channel. With version 1.4, the HDMI cable can send uncompressed audio and video to your television as well as receive uncompressed audio from your television–originating sources, that is, from the tuner, DVD, or widget. Just make sure that the HDMI cable your running to your television is connected to the "ARC" HDMI port on your receiver. It's as simple as that.
So how do you know if your components have an Audio Return Channel? Look for the "ARC" label. The folks at HDMI have asked adopters to clearly label their HDMI Audio Return Channel port with the letters "ARC." If you have a component, and it doesn't have an ARC label, review the product literature or contact the company. They will be able to confirm if your HDMI ports are ARC compatible.