Image S4 White Headphones
Only available at Vann's
Highly affordable, these in-ear headphones go above and beyond what you'd expect from the stock earbuds that come with your MP3 player or music phone. The Image S4 in-ear headphones deliver unequaled comfort, noise isolation, musical accuracy, and bass.
Tune out the external environment and tune into your own private concert anywhere, anytime. At the heart of every Klipsch product is over 60 years of audio expertise beating strong. Their commitment to no-compromise performance has made them the preferred choice of top cinema operators, a leader in stereo and home theater sound, and now a premium name in headphones. Read More...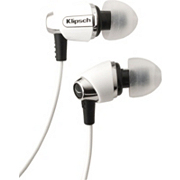 The Image S4 headphones come with three different sizes of washable ear tips.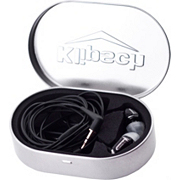 An ear tip cleaning tool and a compact, crush-resistant aluminum case are also included in the purchase.
Rated Top 10 most popular MP3 gadgets for 2009
December 7, 2009 at www.cnet.com
The bottom line: The Klipsch Image S4 earphones offer up sound quality on par with and better than sets that cost many times as much; they are a spectacular choice for anyone looking for new earbuds. See full review here
Editor's Choice at Digital Trends
July 6, 2009 at www.digitaltrends.com
The road to audiophilia gets a little less steep, treacherous and hazardous to the wallet with Klipsch's Image S4 headphones. For casual music listeners who can't quite justify a pair of cans that cost five times as much as the player they'll be wired into, Klipsch strikes a winning balance with the Image S4. See full review here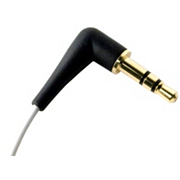 The Image S4 carry a 2-year warranty and works with the iPod, iPhone and other portable devices that feature a standard 3.5mm headphone jack.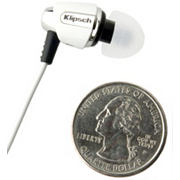 S4 dimensions are 4.5" W x 8" H x 1.3" D. The headphone weight is 0.42oz.