Biggest Discounts
Earn your bargain shopping medal of honor here with hot products at low prices.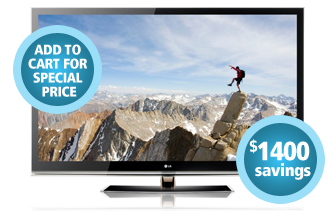 LG 47" 1080p INFINIA series LED HDTV | SHOP NOW
Combining a Full HD 1080p resolution with full-array LED backlighting and local dimming technology, the LG Infinia 47LE8500 conjures up an incredibly vivid, detailed, and lifelike viewing experience perfectly suited to Blu-ray and other HD video.
$129999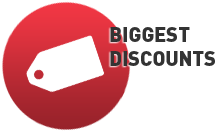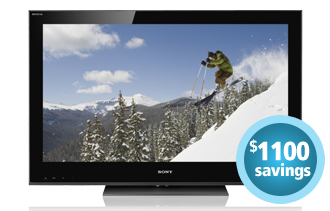 Sony 52" 1080p Wi-Fi BRAVIA LED HDTV | SHOP NOW
Wireless internet capability, widgets, LED backlighting, 240Hz processing, ambient light sensors, and Full HD 1080p - all the heavy-hitting HDTV features in one panel, the KDL-52NX800 from Sony.
$169988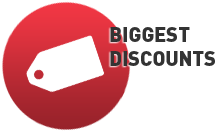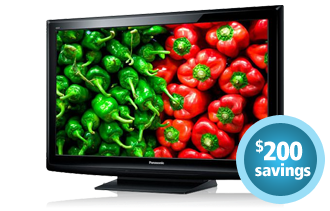 Panasonic 50" 720p plasma HDTV | SHOP NOW
Taking your home viewing experience beyond ordinary HD, the Panasonic TC-P50C2 presents 600Hz subfield drive technology. While the 1024 x 768 resolution plasma panel serves up crisp, high definition images, 600Hz technology accelerates frame-rate conversion, achieving an exceptionally fluid and natural reproduction of motion.
$59988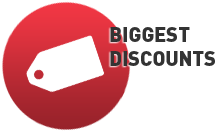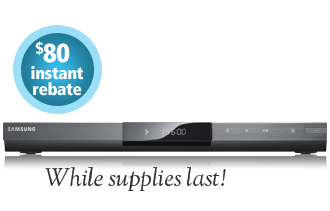 Samsung Blu-ray player with built-in WI-FI | SHOP NOW
With this Samsung Blu-ray player, you get the Full HD video and 7.1-channel uncompressed audio playback of today's Blu-ray movies. But you can also get the best of the internet using built-in wireless support.
$16900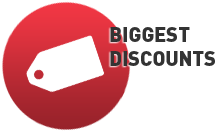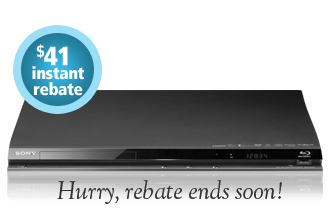 Sony Blu-ray Disc player | SHOP NOW
Can you believe that you can get a Blu-ray player with functionality that extends well beyond your HDTV? Can you believe it's DLNA compatible, and WiFi ready? Sony built the BDP-S370 Blu-ray Disc player, and it includes everything you need for an incredible entertainment experience at an unbelievable price.
$13899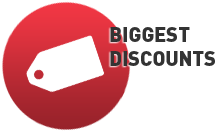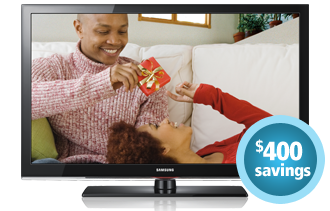 Samsung 46" 1080p LCD HDTV | SHOP NOW
Featuring a full 1080p HD picture, 120Hz motion processing, and a Wide Color Enhancer, the Samsung LN46C600 gives you a picture worth talking about. Add in DLNA compatibility with Samsung's AllShare capabilities, and efficiency that exceeds ENERGY STAR specifications, and you've got an affordable HDTV worth shouting about.
$79797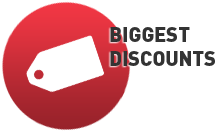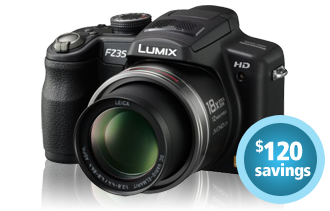 Panasonic 12.1-MP digital camera | SHOP NOW
Panasonic's DMC-FZ35 is no ordinary point-and-shoot camera: this Lumix digital camera records HD 1280x720 video in AVCHD format. Use the HDMI output to watch your HD footage on your HDTV back at home. When you're not filming, capture detailed, 12.1-MP stills using auto modes.
$27988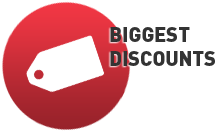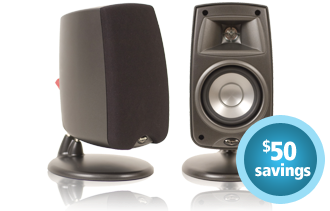 Klipsch 50W surround speaker pair | SHOP NOW
The perfect match for your Quintet III home theater surround sound speaker system, the Quintet III speaker pair adds even more depth to your home theater experience. Or, use them to expand your hi-fi system into the kitchen or home office.
$12988