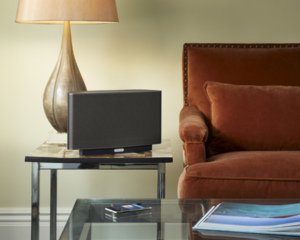 It's not magic -- although it might seem like that -- Sonos uses your existing wireless network to spread all the music you love across your home.
Start out with the Sonos Bridge, and connect it to your wireless router to create your Sonos network. Then, add standalone players like the Play:5 and Play:3, or connect your existing stereo system with the Sonos CONNECT. You can even customize your sound with the CONNECT:AMP that provides 55W of power to any pair of high-quality speakers.
Controlling your system is simple. Use your Mac, PC, smart phone, tablet, or Sonos' CONTROL remote to create playlists, organize your collection, and send music where you want it. Find your favorites, then sit back and enjoy.
PLAY:5
A new dimension in Sonos wireless, whole-home audio: the Play 5. Combining SonosNet 2.0 wireless technology with a built-in five-speaker/five-amp system, the Play 5 allows you to enjoy music from your wireless Sonos system without the need to add additional components like speakers or receivers. The Play 5 can be controlled using your Apple iPhone or iPod touch, and you can even listen to music from your Apple device on your Sonos system. Read more...
$399.00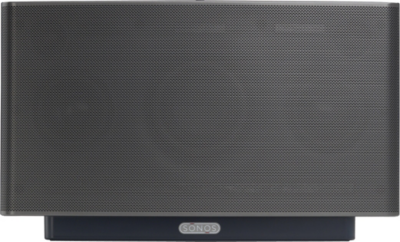 PLAY:3
Sleek design, small footprint, and powerful audio to add to your Sonos network are here with the PLAY:3 speaker. With three built-in amplifiers powering three drivers and a passive bass radiator, you can use this as a standalone speaker for listening to thousands of internet radio stations, music services, or your own collection, or pair it with another PLAY:3 to get a formidable stereo speaker set. Read more...
$299.00
CONNECT
The Sonos Connect lets you play all the music you want, all over your house, on all the audio equipment you already own: your home theater receiver, stereo system, powered speakers, and more. Just connect the Connect to any amplified audio device in any room and it's instantly part of the wireless Sonos system. Read more...
$349.00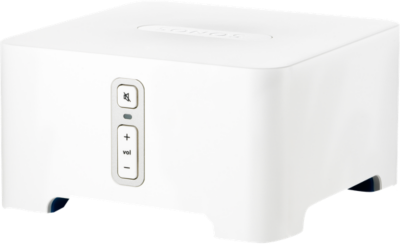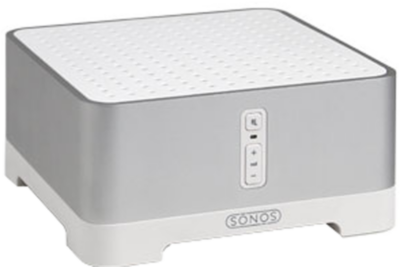 CONNECT:AMP
Begin building your wireless whole-home audio system today. Simply connect the Sonos Connect with amp to your home network or the internet via an ethernet cable, and you can wirelessly distribute all your favorite audio to other ZonePlayers across the house. With its built-in Class-D amplifier and 55W x 2 channels of power, the Connect Amp lets you power two speakers without additional components. Support for a wide range of audio formats makes the Connect Amp a versatile wireless-audio foundation. Read more...
$499.00
DOCK
Add iPod convenience to your Sonos Music System with the Wireless Dock 100. Wireless means it goes anywhere to charge and anywhere you've got Sonos to play back your favorites. Control the music right on your iPod or use any Sonos Controller. But what's most impressive is that the digital music stored on your iPod or iPhone is never converted to analog, like most conventional docks. Read more...
$119.00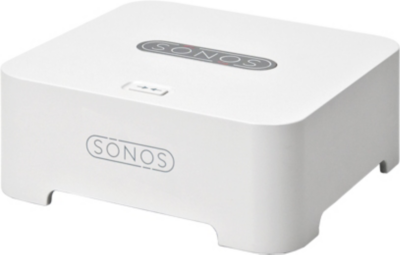 BRIDGE
You've equipped your home with the Sonos wireless audio network, but either don't have a wireless internet network or you don't want to listen to your audio in the same room as your router. Sonos has the solution. By connecting a ZoneBridge BR100 to your router, you still are able to broadcast wireless internet across your home and, thus, link your Sonos ZonePlayer equipped home audio network, giving you access to your entire audio collection in any room. Additionally, the ZoneBridge BR100 gives your Sonos system a boost by extending its range and expanding the wireless reach of the sonos Controller. Read more...
$49.98