Definitive Technology ProCinema 600 (Black)
5.1 home theater speaker package
Enjoy powerful Definitive sound with their entry-level 6-piece home theater speaker system, the ProCinema 600. It includes 4 ProMonitor 600 satellite speakers, the ProCenter 600 and the 250-watt ProSub 600, which utilizes SuperCube technology. The ProCinema 600 system achieves incredible sound at an affordable price.
$799.95
Definitive Technology ProSub 800 (Black)
8" black 300W powered subwoofer
This 8", 300 watt powered subwoofer achieves a unique combination of delicate musicality and thunderous power, for the absolute ultimate in bass performance. The ProSub 800 helps you discover true state-of-the-art bass performance, extending well beyond the limits of audibility into the range of purely physical subsonic energy that shakes the body and stirs the soul.
$399.85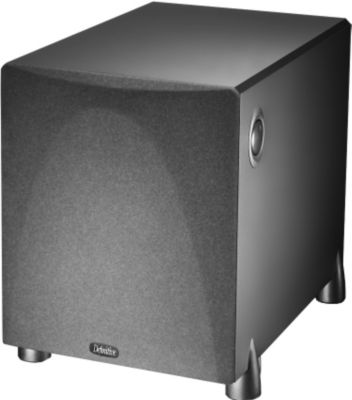 Definitive Technology BP8040ST (Black)
Single 3-way bi-polar floorstanding speaker with powered subwoofer
You know what kind of sound you want: full, rich sound that transports you directly into the movie, or brings you front and center to your favorite performance. Definitive Technology's BP8080ST uses it's forward firing bi-polar speaker array to make sure that sound you get is not just direct, but also full by allowing sound fired from the rear of the speaker to bounce back to you. A built-in 8" 300W subwoofer with twin 8" pressure drive low-bass radiators makes sure that the sound has dynamic, easy to set up bass, and DSP built into the amplifier makes sure it complements the entirety of the speaker without a lot of fuss. A 1.4 sq. ft. footprint means that you don't have to worry about space being an obstacle to great floorstanding sound.
$799.95
Definitive Technology Studio Monitor 45 (Black)
Single 2 way Studio Monitor bookshelf speaker
Soaring highs, deep bass, and room-filling power that belies its size all make the Definitive Technology Studio Monitor 45 bookshelf speaker a perfect fit for your home audio system. Combining a 2nd generation 5.25" BDSS mid/bass driver and 1" pure aluminum tweeter with a high-quality crossover network, non-resonant braced enclosure, and Zobel network this speaker creates audio perfection whether you're into rock, classical, or Blu-ray.
$199.00